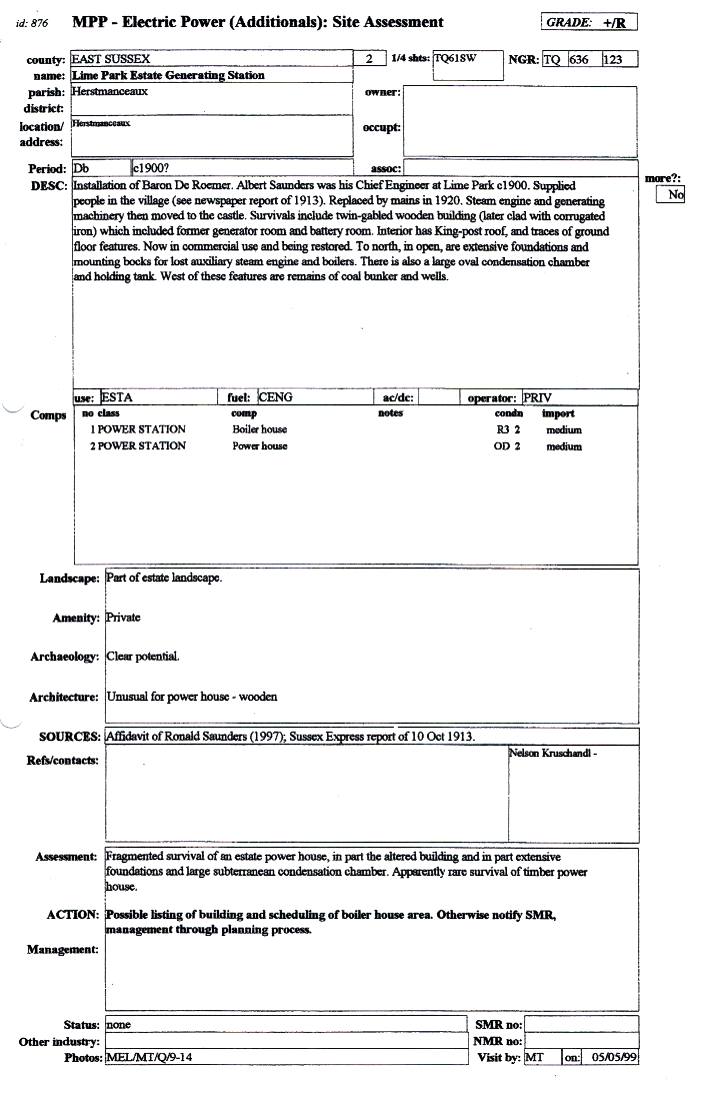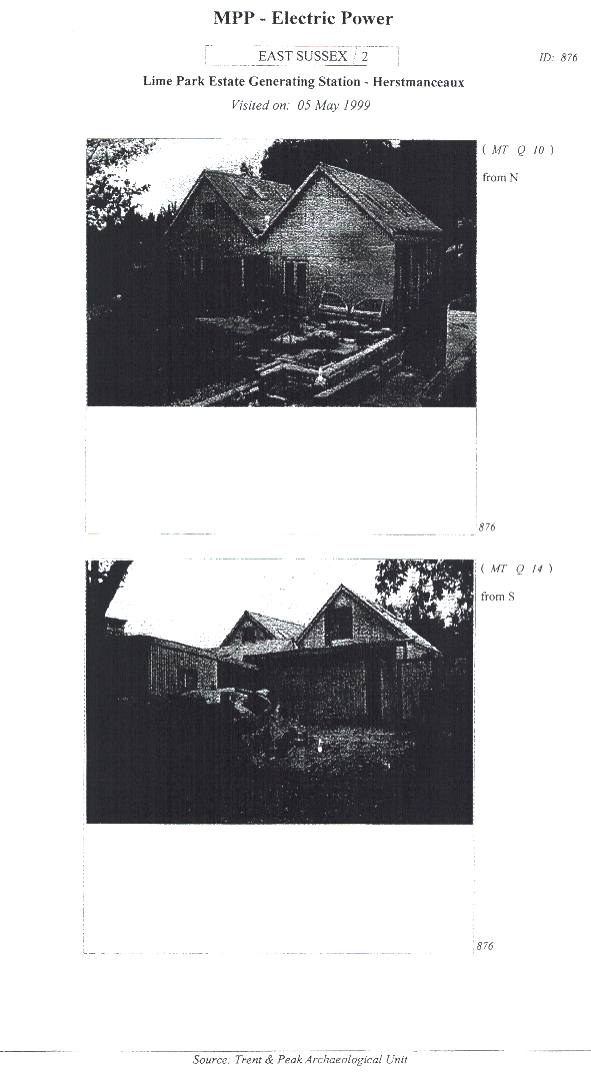 MPP - Monument Protection Programme, Lime Park Generating Station, East Sussex - English Heritage & Historic England - 5th May 1999. Generator room and Battery room.
The MARS programme; Monuments At Risk Survey of 1995, published in 1998, was a relatively detailed listing, that included the known early electricity, industrial buildings in the South of England. This was in response to the rapidly disappearing evidence of man's transition to the modern age. Only two buildings were included in 1995, Batemans and Battersea Power Station.
At the time this survey was commissioned in 1995, the academics did not know about Herstmonceux Electricity Works, and were not informed about the extant buildings by either East Sussex County Council, or Wealden District Council. Mainly because ESCC did not know of the find on their doorstep, and the Secretary of State had in 1986, stated as a matter of fact, that the building their Planning Inspector had visited and inspected, was "not" the original generating station from C.1900. In 1986 and 1997, the various Secretary's of State were told the same thing. According to those Public Enquiries, the building you are looking at today, did not exist. You might be asking yourself how such a thing could happen. How could the Planning Inspectorate, get it so wrong?
Fortunately, in 1997 Alex Askaroff was mending Mrs Saunder's sewing machine at Potmans Lane, near Bexhill, while chatting to Mr Ronald Saunders about his life as a gardener. During this conversation in July, Ronald relayed to the sewing machine engineer, about living in Herstmonceux. Alex pricked his ears up, when the elderly gardener mentioned Lime Park, and finally that his father was the engineer who operated the electrical machinery for Major Charles de Roemer. In turn, that information was relayed to Victor in Lime Park, who was having difficulty finding evidence to support the suppositions put to the Planning Inspectorate in quite a few planning appeals. All of which had been rubbished by the local authority. It turned out that the County Council had not been consulted, nor English Heritage. And that this was yet to come, but that these statutory consultees, should have been included.
Then, the Sussex Industrial Archaeology Society visited the site in 1998, and the MARS academics soon followed, after English Heritage was contacted. With ESCC bringing up the rear, somewhat confusedly, since the Planning Inspectorate were saying one thing, and the archaeological experts, another. Who then was right?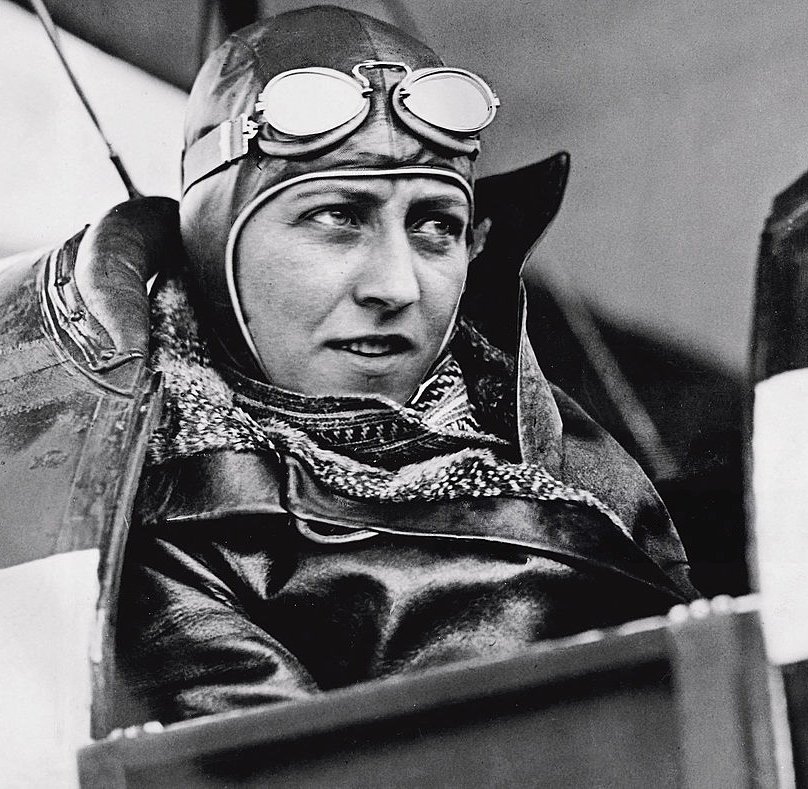 During what many see as the golden age of aviation, one young woman, at the age 27, entered an almost exclusively male dominated way of life. Amy Johnson CBE (1 July 1903 – 5 January 1941), the famous English aviator, was the first female pilot to fly solo from Britain to Australia. Either solo or together with her husband, Jim Mollison, she set many long-distance flying records in the 1930s. She died tragically young, before reaching the age of 40, when the Airspeed Oxford she was flying for the Air Transport Auxiliary (ATA), crashed into the Thames Estuary. Although Amy had bailed out, her body was never found. Accounts vary, to the official version, but Amy did not give the correct radio recognition, and may have been treated as a spy plane, and shot down. A ship that tried to rescue her from the water, may have reversed over her, dragging her down into the freezing river water. A tragedy. Amy Johnson was a 2-term President of the Women's Engineering Society (WES), for the years 1935/36 and 1936/37, and had been a member of WES before that.
Imagine then the shock, that when a time-team surveyed the site in 1999, they discovered that the extant buildings were the original item from C.1900. Yes, the archaeologists were right, and the Planning Inspectors various, were wrong. The Secretaries of State had been misinformed, under informed, or however you may care to look at it. And rather oddly, since a history was being claimed by the then appellant, as a reason to provide a beneficial use, the Planning Inspectors hearing those appeals, did not take the time to ask why there was no input from the statutory bodies, who should properly have been asked to advise. In the 1997/98 inquiries, PPGs 15 and 16 were relevant, as the then Secretary of State would have known. But, somehow, overlooked. Presumably, with a departmental agenda to support the 1987 decision, regardless.
Thus, it was, that the then occupier(s) was/were given no incentive to invest in the upkeep of the building, or keep it in the condition as found. One of the main reasons, of course, that monuments disappear. Bulldozed as Brownfield sites. A case in point, giving reason to the MARS. That might one day be the subject of a Parliamentary Inquiry, when all the dust has settled. Since, that is how we learn from mistakes. And thus modify statute and guidance, or reinforce procedure. Where clearly, to that point in time, the system was not working very well, being open to manipulation. Commonly known as procedural impropriety, an abuse of process, or procedural irregularity. Depending on who is doing the asking. Either way, it was maladministration and a breach of their respective 'Duty's of Care' to the historic built environment. The other terms for a 'cock-up.'
Reminds us somewhat of the UK/US invading Iraq on bogus intelligence. A bit of a boo-boo, that. Thank heavens Britain was more efficient during World War Two, when the chips were down. Though, we did sometimes shoot down our own planes with friendly fire. Thought to have been the fate of Amy Johnson in January 1941, when she drowned in the Thames estuary near Herne Bay. Unofficially! Officially, she ran out of fuel.

A hive of local activity, in the Sussex backwater of Herstmonceux. The driver from all of this was electric lighting, to replace candles and gas lighting. This was a fairly sizeable operation for a country estate, because, it also supplied the whole village of Herstmonceux.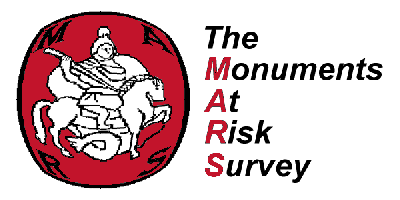 Published information as to the MARS of 1995-1998 is hard to find online. For that reason, the article is a bit light on data, for which we apologise.
Without any doubt, technical and cultural advice will be necessary if the Museum is to be reinstated to original condition. To include, as appropriate, help in national and international UNESCO negotiations.
The DCMS, Department for Culture Media and Sport is the UK organization, dedicated to identifying and preserving heritage assets for the benefit of the public, tourism, and in compliance with the UK's obligations relating to the World Heritage Convention.
https://csweb.bournemouth.ac.uk/mars/
https://archive.org/details/marsmonumentsatr0000darv
https://irep.ntu.ac.uk/id/eprint/9868/
https://csweb.bournemouth.ac.uk/mars/
https://archive.org/details/marsmonumentsatr0000darv
https://irep.ntu.ac.uk/id/eprint/9868/
Thousands of years ago man knew about electricity, but not enough to do anything positive with the curiosity. It would not be until electricity could be applied to lighting, that it would become commercially important, and traded, just as oil lamps made whalers rich from whale-oil, consigning candles to the emergency cupboard. Gas lamps too would be displaced, where electric lighting was safer and brighter. Then came Light Emitting Diodes (LEDs), solar panels and wind turbines. Early lead-acid batteries were serviceable, the reason why Shed Three had an internal drain built in, to allow washing down the floor to remove any spilt sulfuric acid. We are now in the disposable age, where mend and make do is a thing of the past.
CHAPTERS