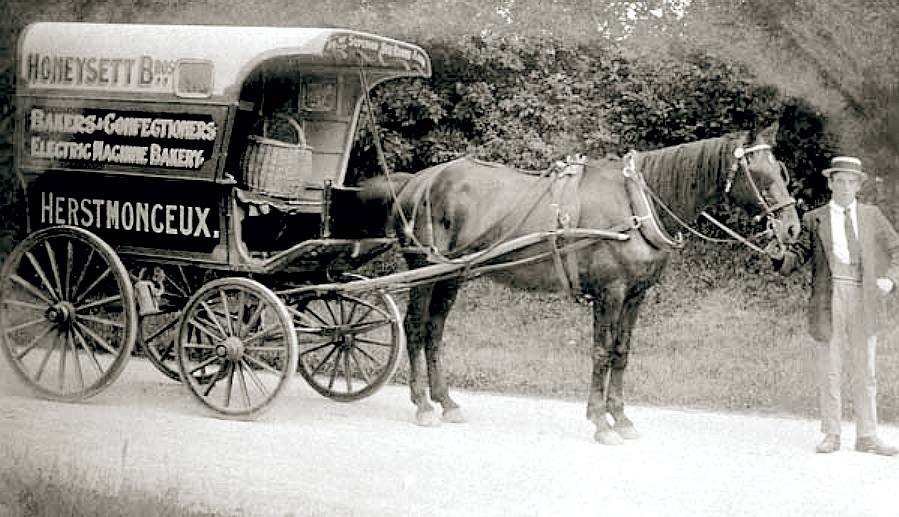 Who has ever heard of a Bakery with electric machinery when horse drawn deliveries were the norm? Herstmonceux had electricity well before most large towns, because of Major Charles de Roemer, who also manufactured seaplanes for the British Admiralty (Royal Navy) in Eastbourne, from 1911 to 1924.
EVEN MORE LOCAL HISTORY - James married Sarah Shorter who had recently had a son Robert. Although it is not clear who Robert's father was, James certainly took on that role. Two of Robert's great-grandchildren, Stephen (1880-1940) and Robert Honeysett (1884-1912), were bakers and confectioners using the latest electric baking machinery as is clear from the sign writing on the side of this horse drawn wagon. Herstmonceux Bakery was one of the few in England at the time that could boast such innovation - all due to the Baron de Roemer and his son Charles. This photograph is from an old postcard courtesy of Mick Hall. In 1982 one villager told the Museum's curator that he would stand at the top of Lime Cross hill and look down to the village, where he could see the lights in the Bakery growing bright then dim in time with the sound of the generating engines in Lime Park. This picture is evidence that that conversation was more then likely factual. We do not know the name of the gentleman telling that tale, and he was retired then in 1982, so has more than likely gone to a better place. We are though pleased to be able to relay it to you for the record.
Not much is yet known about the old bakery in Herstmonceux village, except that we might glean from the pictures of a horse drawn delivery wagon, and another van, this time petrol driven, and much larger.
From the first picture we might deduce that the Honeysett Brothers, Stephen and Robert, had set up a bakery in Gardner Street, especially to take advantage of the electricity supply, that other rural enterprises did not enjoy. We might assume this because on the side of their delivery cart, they had this fact sign written. They were so proud of the fact.
It is difficult to estimate the date of this enterprise from the wagon and basket, but we can assume that the business did relatively well as a result of the advanced technology, because they were still trading - and apparently doing well enough - to be able to purchase a fairly sizeable petrol powered truck, some years later. Presumably as the dirt track for carriages, known as Gardner Street today, gave way to asphalt (tarmac) roads, and then petrol stations completed the infrastructure needed to allow for vehicles to routinely deliver. And of course, the Honeysett brothers, wanting to keep up with the times needed modern transportation to complement their electric machine bakery.
And we know from a walker in 1982, that he could stand on top of the hill dividing Herstmonceux village from Lime Park, and see the lights dimming and brightening in the bakery, in time with the chuffing of Major de Roemer's gas engine. Unfortunately, no note of that kind man's name was made.
What is also of interest, is that at least some of the flour for the bakery was milled by the post windmill, at Windmill Hill. Joining the historic post mill, that pre-dated the Generating Station, with the Bakery in Herstmonceux village. Thus, three historic buildings are joined at the hip. Though Peggy Green mentions a salesman from Holland's Flour, being a regular caller, at the village shop. It is unclear if this was to supply four in bags for home supply to customers, or if Holland's provided bulk supplies to bakeries.
We can also surmise from the Affidavit of Ronald Saunders, that even after 1936, a Mr Harmer ran the windmill at Windmill Hill, and that he had a bakery, which may be the Post Office store today in the village of Windmill Hill. It is unclear if this included confectionery, pastries and the like. According to Ron Saunders, in 1936, Mr Weaver was the head baker of Mr Harmer's bakery. As a lad, Ron Saunders would sweep his bakery rooms after the days baking, for a special loaf reward.
For Peggy Green's wedding in 1942, Mr Honeysett had baked the rolls. This was well after electricity generation had ceased in 1936. Thus, the at that stage, the machinery must have been converted, or swapped out, to run on alternating current.

A hive of local activity, in the Sussex backwater of Herstmonceux. The driver from all of this was electric lighting, to replace candles and gas lighting.
The machinery at Herstmonceux Generating Works provided electricity to the village, well ahead of other rural communities, making headlines in 1913, as Major Charles von Roemer, was advertising electric ovens, which he would provide free of charge to customers in the village. The availability of electricity locally, allowed the local bakery to install advanced baking machines. It appears from the horse drawn carriage, well before 1913. Though, this is pure supposition, until an expert might be found to give us a better picture.
The complex is interesting in terms of UNESCO world heritage listing, because it not only generated electricity, but stored it in Shed number One, a room filled with rows of large glass lead-acid batteries on wooden frames, balanced on small glass cups, or bowls. The battery store had sufficient capacity to provide electric lighting and cooking to the whole village overnight, by 1913.
Only now, in the last few years, have utilities realised that they need battery storage to stabilise the National Grid. There is now a move to install load levelling banks in the UK and in Europe, with one such installation just a few miles from Herstmonceux, at Ninfield.
Early lead-acid batteries were serviceable, the reason why Shed Three had an internal drain built in, to allow washing down the floor to remove any spilt sulfuric acid.
CHAPTERS
If you know of any information that may help us complete this story, please get in touch.