ICOM UK
ICOM UK is the national branch of ICOM in the United Kingdom. It is a gateway to the global museum community and the only UK museum association with a dedicated international focus. It offers access to 20,000 museums in 172 countries, 32,000 museum colleagues throughout the world and 31 professional committees.

It is an organisation which promotes intangible heritage and the preservation of material heritage. It develops best practice standards for the world- wide museum industry and, through its global reach and events programme, contributes to the international agenda of museums in the UK.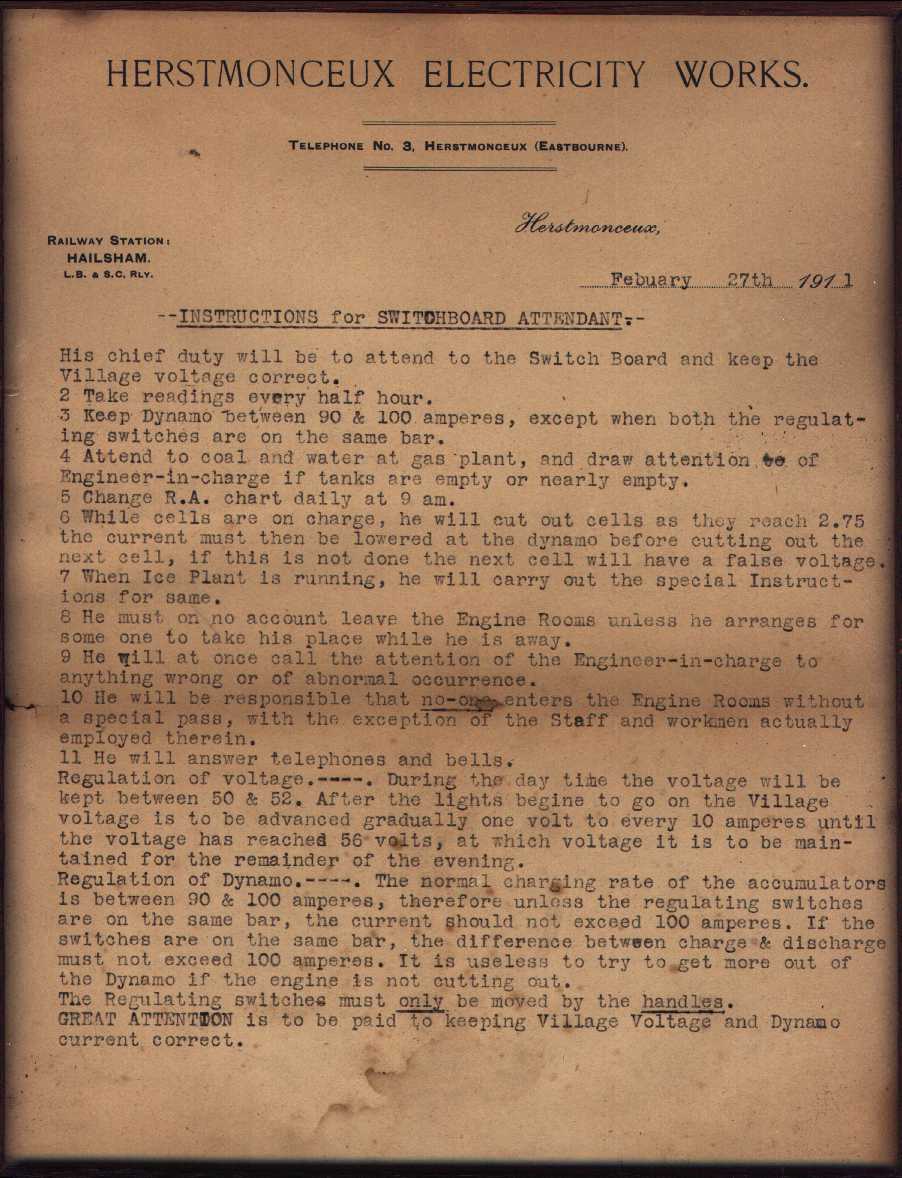 These instruction from February of 1911, reveal a great deal about the technology on site. They are one of the exhibits on display, alongside other innovative firsts that took place in this Sussex backwater.
WHAT IS ICOM ?

The International Council of Museums (ICOM) is an international organisation of museums and museum professionals which is committed to the research, conservation, continuation and communication to society of the world's natural and cultural heritage, present and future, tangible and intangible.

ICOM is a membership association and a non-governmental organisation which establishes professional and ethical standards for museum activities. As forum of experts, it makes recommendations on issues related to cultural heritage, promotes capacity building and advances knowledge. ICOM is the voice of museum professionals on international stage and raises public cultural awareness through global networks and co-operation programmes.

45,493 professionals
in over 138 countries
with 119 national committees
and 32 international committees
ICOM is the only global organisation in the museum field.

ICOM UK

ICOM UK (International Council of Museums UK) is the national branch (National Committee) of ICOM in the UK. It is a gateway to the global museum community and the only UK museum association with a dedicated international focus. As a professional membership organisation, ICOM UK supports best practice standards for the promotion and preservation of intangible and material heritage. Through its global reach and event programme, ICOM UK contributes to and supports the international agenda of museums in the UK.
Herstmonceux Museum, in Sussex, England, is an Ecomuseum, not only in the sense of being a community asset, as an actual historic building, interwoven in the fabric of the developing village. But, also, because of the environmental work that has take place in this location over the years. To wit, the development of electric land vehicles, EV refueling systems, and the research into solar and hydrogen powered ocean transport. Hence, indirectly contributing towards sustainable tourism.


BRITISH OVERSEAS TERRITORIES

ICOM UK also has a relationship with museums in the 14 countries designated as British Overseas Territories. This relationship is a valuable addition to the role of ICOM UK, bringing another important international dimension to our work.

The British Overseas Territories are:

1. Anguilla
2. Bermuda
3. British Antarctic Territory
4. British Indian Ocean Territory
5. British Virgin Islands
6. Cayman Islands
7. Falkland Islands
8. Gibraltar
9. Montserrat
10. Pitcairn Islands
11. Saint Helena, Ascension and Tristan da Cunha
12. South Georgia and the South Sandwich Islands
13. Sovereign Base Areas of Akrotiri and Dhekelia
14. Turks and Caicos Islands
WHAT IS ICOM'S DEFINTION OF A MUSEUM?

The definition of a museum has evolved, in line with developments in society. Since its creation in 1946, ICOM has regularly updated this definition in accordance with the realities of the global museum community.

In Prague, on 24 August 2022, the Extraordinary General Assembly of ICOM has approved the proposal for the new museum definition

A museum is a not-for-profit, permanent institution in the service of society that researches, collects, conserves, interprets and exhibits tangible and intangible heritage. Open to the public, accessible and inclusive, museums foster diversity and sustainability. They operate and communicate ethically, professionally and with the participation of communities, offering varied experiences for education, enjoyment, reflection and knowledge sharing.
FOREIGN, COMMONWEALTH & DEVELOPMENT OFFICE (FCDO)

The FCDO pursues national interests and projects the UK as a force for good in the world. It promotes the interests of British citizens, safeguards the UK's security, defends values, reduces poverty and tackles global challenges with international partners. FCDO is a ministerial department, supported by 12 agencies and public bodies.

DEPARTMENT FOR INTERNATIONAL TRADE (DIT)

The Department for International Trade (DIT) helps businesses export, drives inward and outward investment, negotiates market access and trade deals, and champions free trade. DIT is responsible for promoting British trade across the world and ensuring the UK takes advantage of the huge opportunities open to it.
MAKING MUSEUMS WORK

According to ICOM UK, and DIT, the UK museum sector has a world-class reputation, their skills and expertise are in demand from organisations worldwide who are looking to re-develop museums or create new institutions. A 2013 publication by UKTI outlines some of the remarkable projects UK museums have been partners in.
NETWORK OF EUROPEAN ORGANISATIONS (NEMO)

NEMO is an independent network of museum organisations representing the museum community of the European Member States. NEMO ensures museums are an integral part of European life by promoting their work and value to policy makers and by providing museums with information, networking, and opportunities for co-operation.

EUROPEAN CULTURAL FOUNDATION (ECF)

The European Cultural Foundation bridges people and democratic institutions by connecting local cultural change-makers and communities across wider Europe.
CONTACT ICOM
ICOM General Secretariat
15 rue Lasson
75012 Paris
France
Tel: +33 (0) 1 47 34 05 00
(No postal address is provided for ICOM UK)
Emails: uk.icom.museum@gmail.com
membership@icomuk.org
UNESCO
UNESCO has been entrusted with leading and monitoring worldwide action to deliver the targets in the Sustainable Development Goal on quality education for all under SDG4. Blue Shield, works with UNESCO.
USEFUL LINKS
https://uk.icom.museum/about-us/
https://www.sustainabletourismworld.com/ecomuseum-introduction/
https://uk.icom.museum/resource/uk-government/
https://icom.museum/en/network/partners/
https://icom.museum/en/news/sharing-is-caring-ecomuseums-and-climate-change/
https://uk.icom.museum/about-us/
https://www.sustainabletourismworld.com/ecomuseum-introduction/
https://uk.icom.museum/resource/uk-government/
https://icom.museum/en/network/partners/
https://cimam.org/
https://icom.museum/en/news/sharing-is-caring-ecomuseums-and-climate-change/