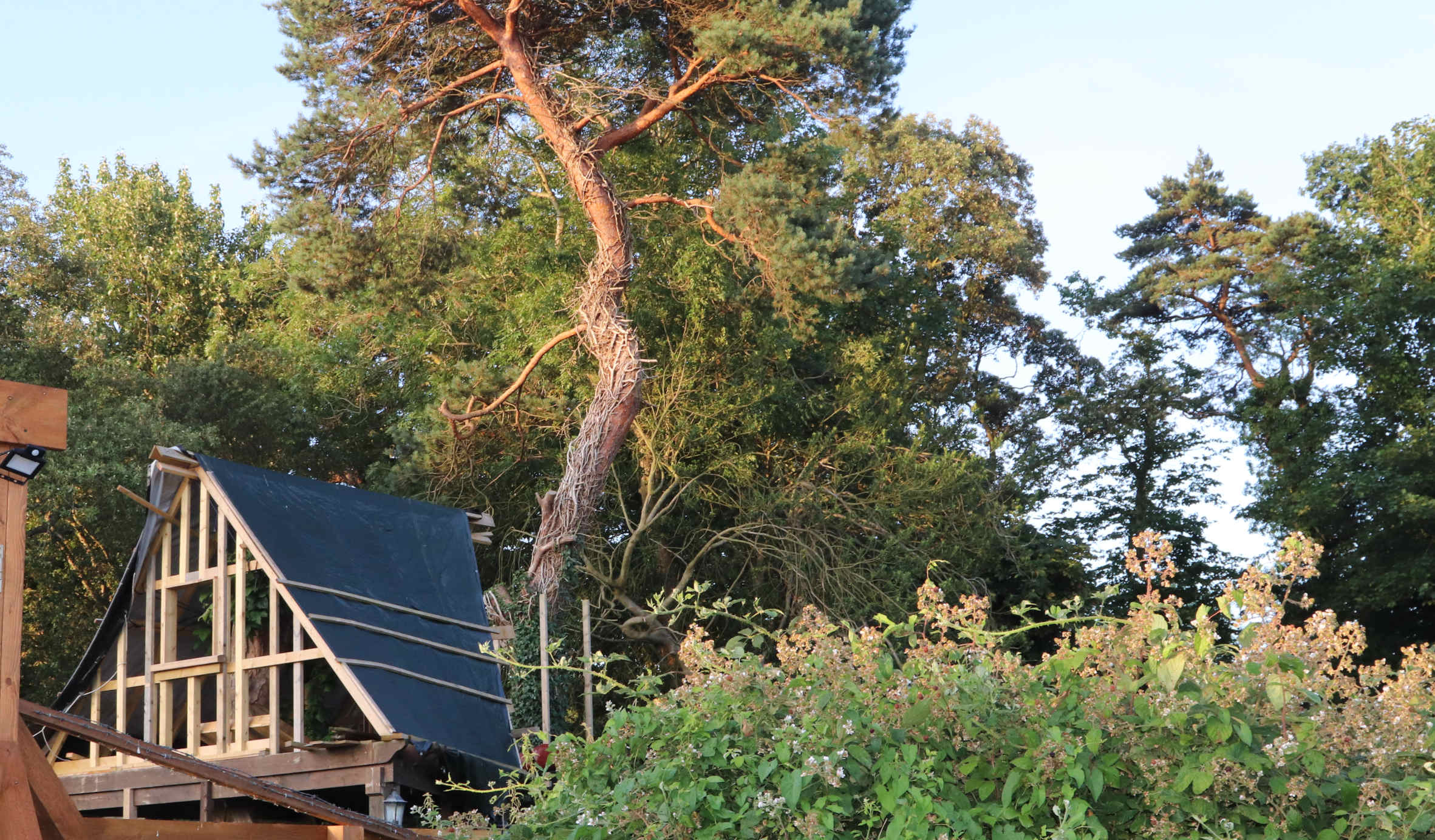 This could be a genuine treehouse, with a tree growing through the (proposed) Airbnb, but at the moment, it is simply a support structure, bereft of floors or conveniences. This is while the tree regenerates, after a serious bark infection some years ago, forced drastic surgery. Though, the proposed use could be enjoyed on a temporary basis for up to 28 days a year, under permitted development rules. Except that any fittings that may not be a permitted development, after the expiry of 28 days, would have to be removed, until the following year. That is not impossible, but rather inconvenient, and an additional financial burden on the Museum, as the Trust strives for tentative listing, as a World Heritage Site.
Sorry, not yet available.
TEMPORARY AIRBNB
Assuming that the Trust/Museum attains accredited status in 2024, they will need to generate a reliable income to pay for the upkeep and further development of Herstmonceux Museum, aimed at Phases 3-4, preparing for and then re-installation of a National gas engine and control gear to original specification. This income will be necessary, even with, and as a top up to any contributions from other organizations. The Trust feel sure that the Sycamore, Holly and Scott's Pine trees will not mind. Being in a good cause. Though land at present not owned by the Trust. Hence, negotiations needed.
As with other monuments and registered heritage assets, the tried and trusted methods, and recognised means of producing such financial support, is for the local authority to grant consent for temporary uses, to help generate an income. Sums will also be necessary to help offset the forward maintenance and administrative functions, connected to the forward restoration process.
This may include temporary short-term, or holiday lets, such as AirBnB, that are known to be particularly good performers. This is sure to require imaginative use of the limited grounds, and other creative attractions, to still allow for public viewing of the exhibits, as attractions, to retain accredited status, etc. Children will need to be catered for, perhaps with climbing frames and adventure buildings, that can be taken down, reduced in size, or otherwise melded into the rural scene appropriately, in due course.
Upkeep of the buildings, is to include fireproofing the woodworks, treatment against wet and dry rot and roofing repairs. The installation of cooling devices and a sprinkler system may also feature as a preservation device, as global warming continues to heat the planet, to threaten timber buildings.
TARZAN'S LODGE
Herstmonceux - Suggested price from £100 per night.

The Tarzan experience is located just 400 yards south of the village of Herstmonceux in the East Sussex region, and adjacent to the earliest surviving wooden Generating Station C. 1890 in the world. Live like Tarzan, on a getaway weekend and find your way back to nature, while you explore the Sussex countryside. Within easy walking distance of the village, Windmill Hill and for hikers, Herstmonceux Castle. Great for children, young and old.

Students welcome; off peak special rate. Only if limited days per year not booked.

The Tarzan experience is available in other countries, but not yet in deepest, darkest, Sussex. Edgar Rice Burroughs was born in Chicago, then lived in California. He published "Tarzan The Ape Man" in 1912. We think he would have liked our Tarzan experience, where he based his story on the (fictional) English, Lord Clayton, Earl of Greystoke. Disney's Tarzan's Lodge (Orlando, Florida) is now replaced with another attraction in the same location.

Free parking and Wifi. Great for cycling and electric bike tours, but don't get caught out on range if going electric. The UK, like other EU countries is backward in coming forward on EV infrastructure. There simply isn't one. Yet!

Enjoy glorious views to unspoiled Sussex countryside, across to an area of outstanding natural beauty (AONB) to the north-east and a private park south. The grounds lead to several public footpaths in the adjacent fields - with a wealth of birds and wildlife including bats and ducks (at the right time of year). There is off road parking. For those that like to take a long walk, take a stroll down Church Road to over 500 acres of the Herstmonceux Castle Estate or the hundreds of acres over the Pevensey Levels, a Ramsar site of special scientific interest, with lapwings and raft fen spiders, that live mostly underwater in a bubble of air.

A PERFECT RETREAT

For those that just like to relax and unwind away from the urban clamour, the Tarzan experience is about as cosy as it gets with a living tree inside the accommodation on two levels, if you fancy a hug. There is a roofed, decked area with comfortable seating, and a hammock. The setting is about as wooded as it gets in Sussex. Set to include a LED colour TV, radio/MP3 player and free WIFI connection, if you need to stay in touch with the outside world. But why not just let all those worries go for a rejuvenating weekend.

SELF CATERING

The Tarzan experience will include a microwave, fridge, hobs and small oven, kettle and toaster. Tea, coffee and milk to be provided. It will be possible to arrange for a barbecue in the grounds, if you are expecting a couple of chums for dinner (but not for overnight stays, subject to booking and availability) and with advance notice. There will be a small additional charge for use of a barbecue, cleaning, etc.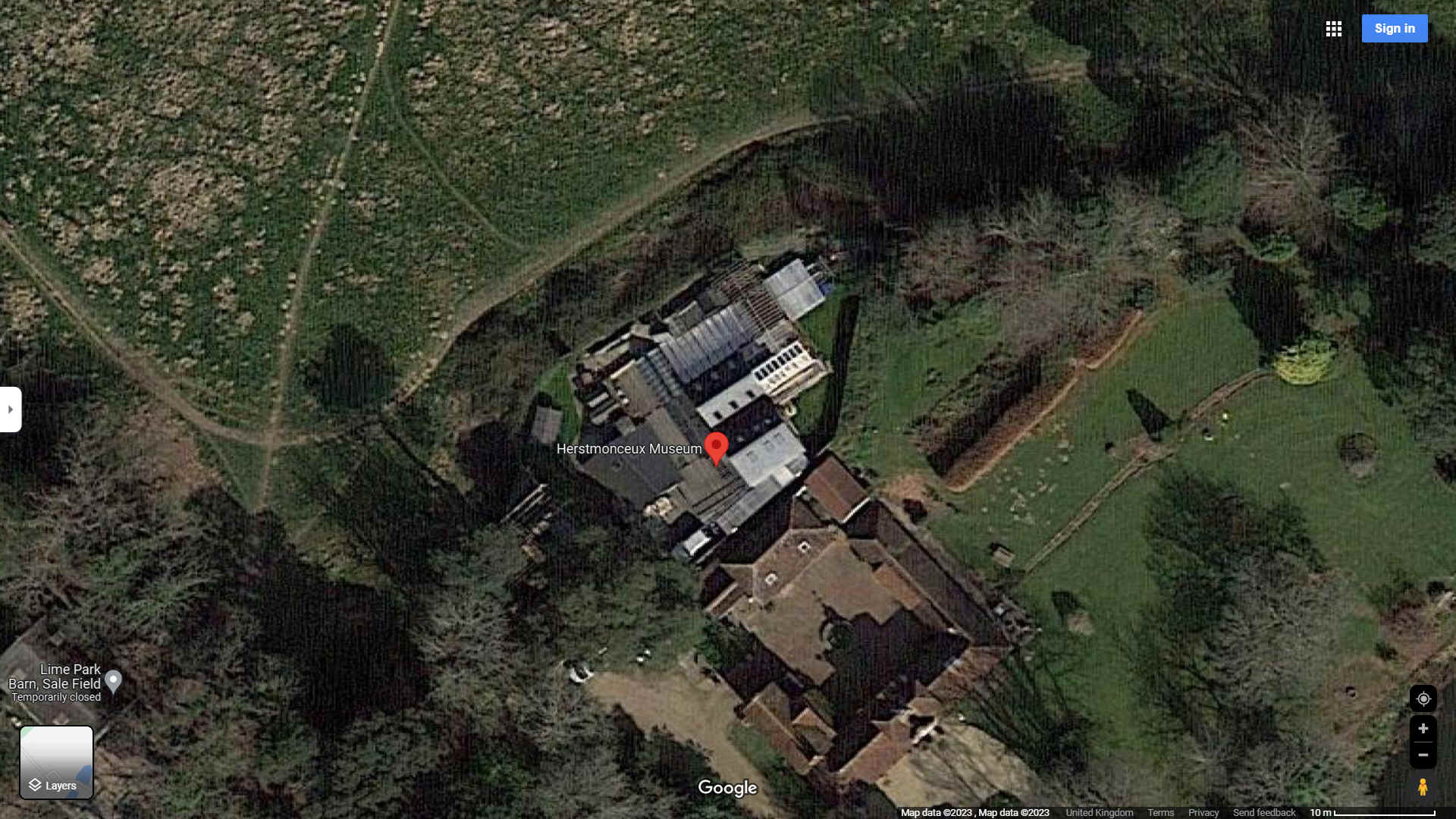 EMINENTLY RECOVERABLE - An aerial view of Herstmonceux Museum in 2022, showing the public footpaths north of the generating buildings. Many of which are unregistered, but well trodden for over forty years, from our records.

Historic buildings need viable uses, for their owners/occupiers to be able to transcend, from rotting away, to trading to heritage grading.
EATING OUT LOCALLY

If you don't fancy self-catering, the village has a cafe, two pubs with traditional menus, fish and chip shop, an Indian and the Sundial restaurant, if you prefer French cuisine.
Herstmonceux is relatively well catered for, except the village does not benefit from a Chinese restaurant or takeaway, burger, pizza or subway fast food restaurant.
The nearest restaurant serving Chinese food is in Hailsham (and it is good) or Pevensey Bay. You'll have to go to Hailsham for a Burger King, Subway or pizza, and Polegate is the closest McDonalds.
If you like traditional pub grub, then you are in luck, you have a choice of three public houses that serve some very tasty meals. Herstmonceux also has a curry restaurant (and takeway), a fish and chip shop and a specialty restaurant if you like French cuisine - as follows:
Eastern Promise
Geo's Coffee House
The Merrie Harriers
The White Horse Inn
Willows Fish And Chip Shop


OTHER PLACES TO STAY LOCAL TO HERSTMONCEUX:
Boreham House 5 stars Herstmonceux - Price from £126 per night
Cedar Lodge 4 stars Herstmonceux - Price from £269.50 per night
Chilsham Barn 4 stars Herstmonceux - Price from £249.50 per night
Cleavers Lyng 16th Century Country House 4 stars, Herstmonceux - Price from £80.75 per night
Eastwood Observatory - Chilsham Lane, Hailsham - Price from £2,797 per night
Furnace Brook Lodge, Cowbeech - £ Phone
Swallows Barn 4 stars - Herstmonceux - Price from £302.50 per night
The Stables at Boreham House - Herstmonceux - Price from £145 per night
Windmill Barn 4 stars Herstmonceux - Price from £178.33 per night
It is a good idea to check current prices (up or down), these are about 12 months old.
Herstmonceux and surrounding areas, provides a relaxing country setting for hikers, students and tennis professionals. There are many attractions, such as the Castle, Observatory, Public Footpaths and trails for hikers.
Battle Abbey 1066 country is within easy driving range, Eastbourne and Hastings seaside resorts, Hastings boast the world's largest beach launched fishing fleet, and Beachy Head and Seaford Head (nature reserve) cliff-tops, joined by the Seven Sisters, provide stunning views and walks. The Pevensey Levels SSSI is a must for bird watching. There is also a Medieval Festival at Herstmonceux Castle every year. And then there is Alfriston, where King Alfred did not burn the cakes.
Other reasonably close attractions include Knockhatch and Drusillas Zoo. Fun outings for all the family.
THERE IS LOTS TO SEE AND DO

An ideal base for exploring 1066 country, the Museum is set in a unique area of the Sussex Weald, offering something for everyone to enjoy - and explore.

A 12 minute drive from (the proposed) Tarzan's lodge you'll find the glorious south downs national park. Green rolling pastures, wide open spaces, ancient woodlands, river valleys and dramatic coastline truly encompass the National Park's ethos of being one of 'Britain's Breathing Spaces'. With over 3,300km of rights of way, the South Downs National Park offers a landscape as diverse as it is breath-taking, including the Seven Sisters, Beachy Head, Birling Gap, and Seaford Head, four of our favorites. Where you can soak up the sea air, and look across the English Channel.

Inspire the historian in you with a trip to All Saints Church. Or perhaps your inner artist would prefer a visit to close-by Charleston Farm House - home of the Bloomsbury Group, which included local author; Virginia Woolf. If a little rambling takes your fancy, there's a host of scenic country walks in the area, such as the Cuckoo Trail.

That's not to mention the surrounding picturesque villages, local vineyards, golf courses, horse-riding stables and fashionable shopping districts reasonably close by, including Lewes, Brighton and Tunbridge.

Herstmonceux Castle - is renowned for its magnificent moated castle, set in beautiful parkland and stunning gardens. Built originally as a country home in the mid 15th century, the brick built Castle embodies the history of Medieval England and the romance of Renaissance Europe. There is a Festival here every year.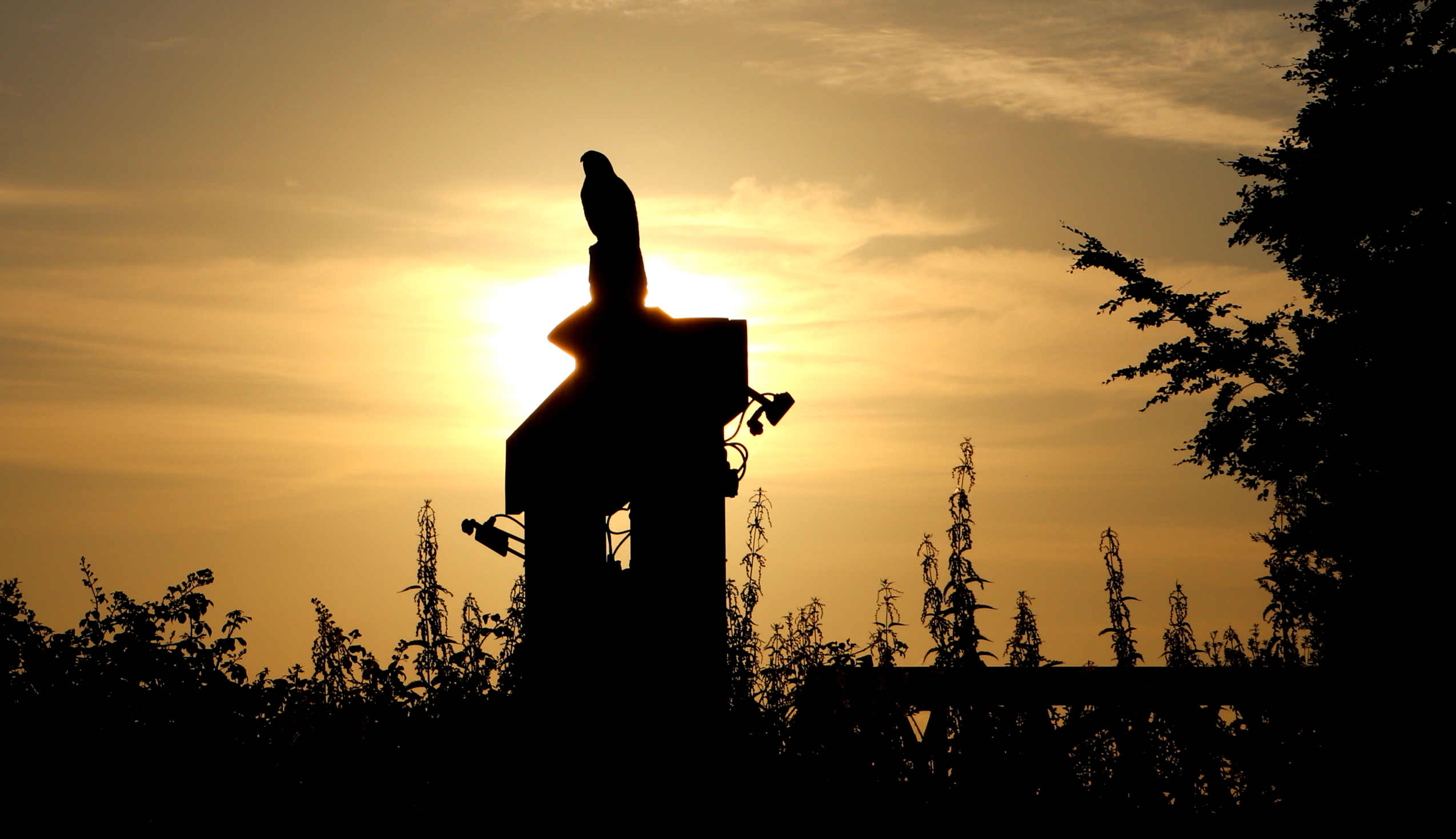 Entrance from Lime Cross Field, along the public footpath, a right of way from the A217 east, or the A271, via the car park at the Cricket Pitch, just a little west of the village.
OTHER MUSEUM ATTRACTIONS
In addition to the archaeology in the structure of the extant generating building, together with original switches and other electrical apparatus (much of which was excavated on site) there are several innovative vehicles and vessels on permanent display at Herstmonceux Museum, including:
1. The fountain of youth, supplied from natural well water drawn on site
2. Adventure climbing frames for children (back to nature) Swiss Family Robinson
3. An Edwardian ice well, throwback to the days before refrigeration
4. A large underground condensation and water storage chamber
5. The world's smallest water basin, test tank for model boats
6. World's smallest wind tunnel, vehicle drag measuring instrument using electronic strain-gauges
7. Three PV boat models, Navigator, SWATH & 2 cats + route map prior to Swiss PlanetSolar
8. Seavax, the ocean cleanup proof of concept prototype from 2016
9. AmphiMax, radio controlled (working) beach launching & recovery vehicle for SeaVax
10. Anthony the most dangerous giant Australian bulldog ant, 300 times normal size
11. EV - FCEV refueling station model in 1:20 scale
12. The only working water well in Herstmonceux village
13. Solar panel, sun tracking system
14. Second World War, 'Anderson Inspired,' bomb proof shelter constructed by Major Charles de Roemer
15. City sports FCEV-BEV, hydrogen gull wing proof of concept DC50 electric car
16. Land speed record car: Bluebird-Electric BE1 (original 1st) with battery cartridge exchange
17. Land speed record car: Bluebird-Electric BE2 (original 2nd) with cartridge exchange
18. A complete mummified squirrel, found when re-roofing the Museum June 2017
19. A fully operational, and restored VW Kombi van dating from 1978 (historic vehicle)
20. BMW i3, battery electric vehicle hybrid, with onboard generator range extender
21. Three sewing machines, including an antique Singer and a Brother industrial.
There were many other contributors. If you know of any information that may help us complete this story, please get in touch.