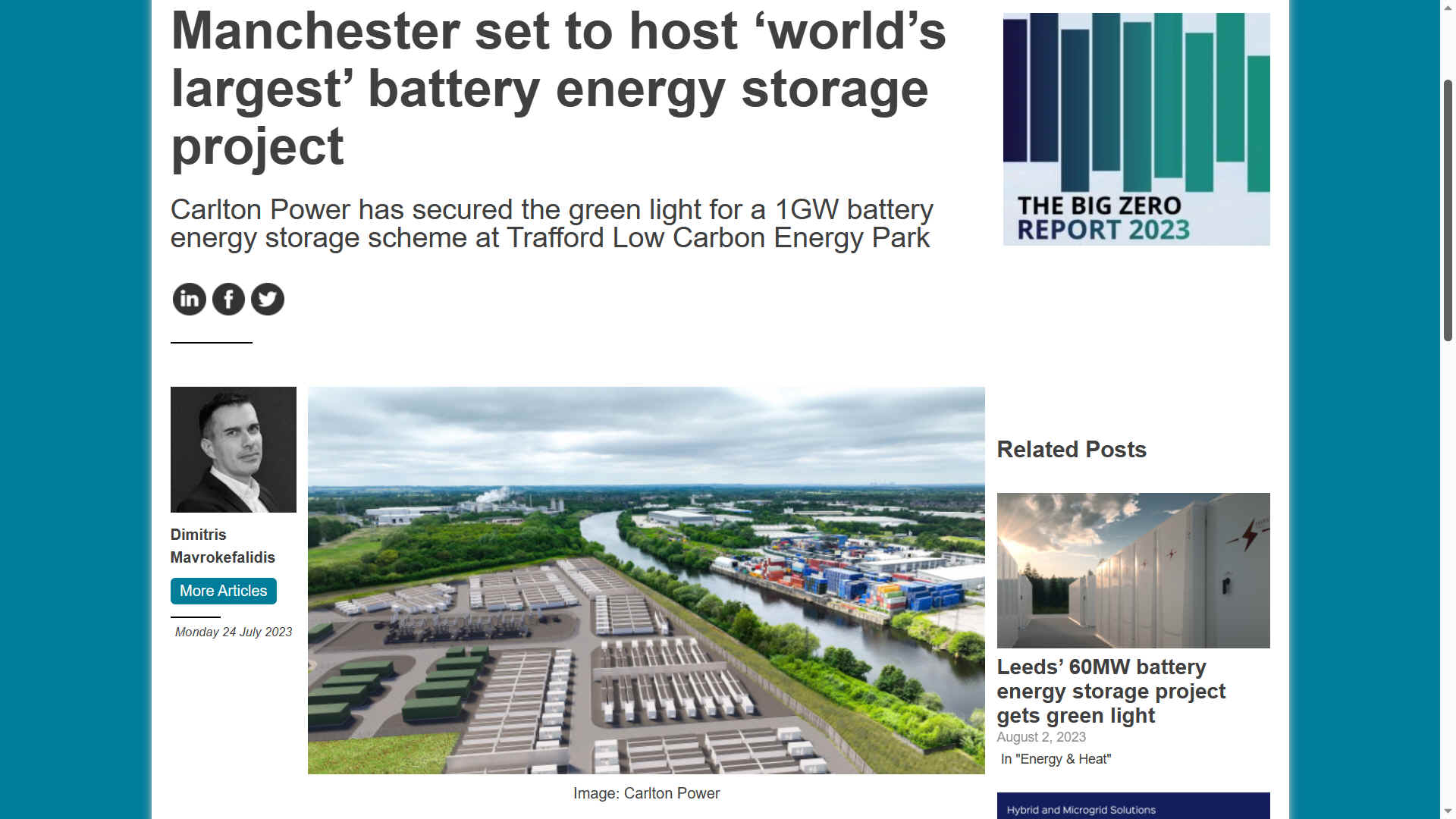 Blazing a low carbon future, Carton Power, sets the pace, with others like Ninfield and Pillsford, South Yorkshire
FUTURE ENERGY 24 JULY 2023 - MANCHESTER SET TO HOST 'WORLD'S' LARGEST BATTERY ENERGY STORAGE PROJECT

Carlton Power has secured the green light for a 1GW battery energy storage scheme at Trafford Low Carbon Energy Park.

Energy infrastructure development company Carlton Power has received planning permission for an ambitious project at Manchester's Trafford Low Carbon Energy Park.

The approved scheme aims to establish the world's largest battery energy storage system (BESS), boasting an estimated 1GW (1040MW / 2080MWh) capacity.

The planned BESS, estimated to cost £750 million, is expected to support the grid's security and resilience in the North West region of England.

The construction is anticipated to start in the first quarter of the upcoming year, with the system's commercial operation targeted for the final quarter of 2025.

Chris McKerrow, Head of Carlton Power's European BESS Development, said: "Our BESS scheme will make a significant contribution to the resilience of the North West's energy system and combined with our green hydrogen scheme and the cryo-battery project, underlines Trafford Park's importance to the energy transition in the region and the journey towards net zero."
NEVADA - The US is embracing renewables, as is the UK, with over 40% of electricity coming from wind and solar farms in Britain. China is also installing this technology, and leading the electric vehicle charge, giving them a solid energy base from which to manufacture and sell their goods to to rest of the world.
With the increasing efficiency of photovoltaic panels, and reduced price from volume manufacture, many people can now afford to fit these on their homes, complete with battery storage, to even out the energy time displacement. Photovoltaic panels might be even cheaper, if they were manufactured locally, instead of being shipped from the other side of the world on container ships. One day each country might produce their own PV panels and lithium batteries, or, in the case of the United Kingdom, at least source more locally, from Europe.
The Trafford Battery Energy Storage System (BESS) is at an advanced stage of development, with a fast-track National Grid connection due to be completed in mid-2023.

Battery energy storage is a key technology for the transition to low carbon power generation. Once operational, the Trafford facility will operate in the UK energy market, provide reserve and ancillary services to the grid, and be capable of capturing multiple income streams. BESS is an essential enabling technology for Net Zero as the proportion of intermittent renewable power generation increases.

The Trafford BESS project is being developed in several blocks, providing an opportunity to invest in large-scale, 250MW projects, at an advanced stage of development. The site is strategically placed on the National Grid system for the 400KV transmission network and high-pressure natural gas, as well as being close to the proposed HyNet Hydrogen networks.

Trafford Low Carbon Energy Park

The project is located on Trafford Low Carbon Energy Park, in a long-time industrial area on the site of an old coal fired power station. Trafford Energy Park is being developed as a multi-stage, multi-faceted energy development to support Greater Manchester's net zero 2038 target – along with the UK's net zero 2050 target.

These projects include:

- Li-ion Battery Energy Storage

- Cryobattery - Liquid Air Energy Storage (LAES)

- Green hydrogen production facility

- Potential hydrogen fuelled combined cycle gas turbine (CCGT)

- Net zero industrial projects
CARLTON POWER LIMITED
Carlton House, 26 Ellerbeck Court
Stokesley, Middlesbrough
North Yorkshire, TS9 5PT

01642 714570
Local Agenda 21 was an Agreement reached at the Rio World Summit in 1992, signed by 179 heads of state, including the United Kingdom. This was three years before the Climate Change Conferences of the Parties (COPs) began in 1995. In those days they did not have lithium batteries, nor were electrolyzers able to produce hydrogen so efficiently. It is anticipated, that with so much lithium under the control of China, and with the increase in take up of battery EVs, that fuel cells will become the more sustainable option eventually for electric vehicles and for load levelling of power networks.


In the early days, the driver to develop a grid infrastructure was electric lighting, to replace candles and gas lighting. Making humans master of night and day. Turning many of us into nocturnal animals, simply because we can. That may not be a good thing, with the advent of gaming computers, and lapse into all night sessions, and sleeping all day. Especially in teenagers. But, that is another social and educational problem. For modern mankind to resolve.
The energy generating and storage system seen at Herstmonceux Museum was advanced in many ways, and less than efficient in others, being a DC system. As an advocate of DC, even Thomas Edison, got that wrong. But, in this little backwater of Sussex, the technology was spawned. How to store energy. Which turned out to be the charging of batteries, or as they were called then: accumulators.
Well before this technology became fashionable as a grid stabilising, load leveler, for the growth of the renewables industry, this was taking place in Sussex around C.1900. With the storage facility in Lime Park, thought to be the last surviving early example of the development of this particular solution, in the early age of electricity, leading to our modern age of computers. Today, in 2023, our thinking has come full circle, as we try to regain harmony with nature. The proof of which is the building of modern battery based energy stores, up and down the country, with one such 'Green Park' in Ninfield, on the cards.
https://www.carltonpower.co.uk/battery-storage

If you know of any information that may help us complete this story, please get in touch.